(A Society for Healthcare Workers with Oncology interests)
Step into the world of MESTRO, where the power of radiotherapy meets the art of healing. Discover our vibrant community dedicated to transforming lives through innovative oncology therapies.
Unlock boundless possibilities with MESTRO Memberships. Embrace a thriving community where like-minded individuals gather, connect, and grow. Join us today and embark on a journey of collaboration, inspiration, and endless opportunities.
MESTRO Membership is now open!
Brachytherapy collaborative group and initiation of weekly peer-review: A brachytherapy collaborative group was initiated during MESTRO 2022 Symposium in Riyadh, Saudi Arabia. This group was represented by Radiation Oncology staff with brachytherapy interest from...
The mestro 2023 will be a 2 and half day meeting on November 9-11, 2023 at Alfaisal University, Riyadh, Saudi Arabia.
MESTRO 2022 symposium was conducted on December 2nd and 3rd 2022 at Alfaisal University in Riyadh, Saudi Arabia.  The meeting was a great success with the attendance of over 899 professionals from the whole Middle East and across the globe. After the meeting the...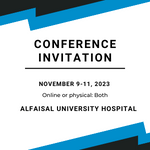 Date/Time: November 9-11, 2023
Virtual or in-person: Both
Place: Alfaisal University Hospital